2019年马会全年资料 不锈钢旋振筛
产品概述
该系列的基本原理是利用电机轴上下安装的重锤(不平衡重锤),将电机的旋转运动转变为水平、垂直、倾斜的三次元运动,再把这个运动传递给筛面,使物料在筛面上做外扩渐开线运动,故该系列振动筛称之为旋振动筛。旋振筛具有物料运行的轨迹长,筛面利用率高等优点,调节上、下两端重锤的相位角,可改变物料在筛面上的运动轨迹.可以对物料进行精筛分、概率筛分等。
如图该旋振筛材质为不锈钢,更加适合食品、医药、化工等行业。
Product overview
By means of hammer(unbalance hammer)mounted along the motor shaft, HYS Series 3-D Vibrating Screens convert the rotation of the motor into a 3-D movement, i.e. horizontal, vertical and inclined movement, and then the 3-D movement is transferred to the screen surface, which leads to an involutes movement of the materials on the screen surface. That's why it is also called the Rotary Vibrating Screen.Rotary Vibrating Screen can handle the material into the Precision Screening or Probability screening by adjust the upper and lower ends of the phase angle of the hammer so as to change the movement trajectories of materials on the screen surface.It has the feature of long trajectory of materials and high utilization rate of screen surface.
As shown in pictures the material of vibrating screen is stainless steel,it suitbal for food,medicine,chemical engineering and so on.
不锈钢旋振筛实机图片
Photos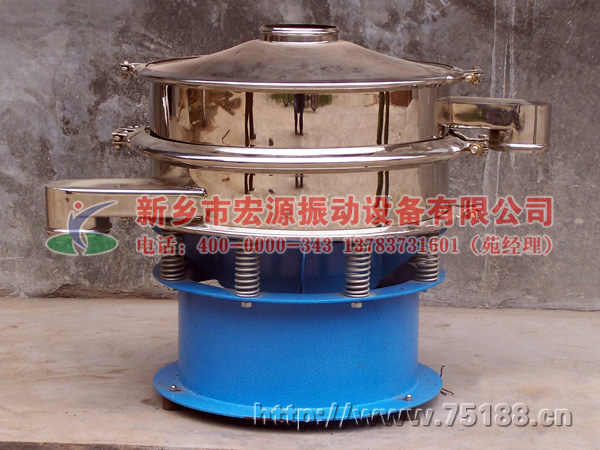 接触物料部分为304不锈钢
part contact with the material is 304 stainless steel


全不锈钢材质旋振筛
Stainless steel rotary vibrating screen
不锈钢旋振筛适用行业
化工行业:树脂、涂料、工业药品、化妆品、油漆、中药粉等。
食品行业:糖粉、淀粉、食盐、米粉、奶粉、豆浆、蛋粉、酱油、果汁等。
金属、冶金矿业:铝粉、铅粉、铜粉、矿石、合金粉、焊条粉末、二氧化锰、电解铜粉、电磁性材料、研磨粉、耐火材料、高岭土、石灰、氧化铝、重质碳酸钙、石英砂等。
公害处理:废油、废水、染整废水、助剂、活性碳等。

Applications
Chemical industry: resin, coatings, industry, medicine, cosmetics, paint, powder, etc.
The food industry: sugar powder, starch, salt, rice flour, milk powder, soybean milk, egg powder, soy sauce, juice, etc.
Metal, metallurgy, mining, aluminium powder, lead powder, copper powder, ore, electrode powder, alloy powder, manganese dioxide, electrolytic copper powder, electric magnetic material, polishing powder, refractory material, kaolin, lime, alumina, heavy calcium carbonate, quartz sand, etc.
Pollution treatment, waste oil, waste water, dyeing wastewater, additives, activated carbon, etc.
不锈钢旋振筛主要特点 
    1. 效率高、设计精巧耐用,任何粉类、粘液均可筛分。
    2. 换网容易、操作简单、清洗方便。
    3. 网孔不堵塞、粉末不飞扬、可筛至500目或0.028mm。
    4. 杂质、粗料自动排出,可以连续作业。
    5. 独特网架设计,使用时间长久,换网快只需3-5分钟。
    6. 体积小,不占空间移动方便。
    7. 筛机最高可以达到五层,建议使用三层。

Features
1.High efficiency, refined design, duration, any powders and mucilage are screening.
2.easy to replace the mesh, the operation is simple, easy to clean.
3.Nurture mesh plug, powder not float, up to 500 mesh or 0.028 mm.
4.Impurity, coarse material automatic discharge, can continuous operation.
5.Unique network frame design, screen mesh long using time, change mesh for only 3 to 5 minutes fast.
6. Small volume, does not occupy a space,move easily.
7.Screen machine up to five layers, it is recommended to use three layers.
不锈钢旋振筛特色与优势
子母式、冲压式网架设计,3-5分钟筛网更换即可完成,换网用2人即可,整机、筛网寿命长,耗能少、维修费用低。S49-A三元旋振筛振动源产生的三次元振动,强大而平稳,设备可安装到任何所需位置且便于移动。

Characteristic and advantage
Lash type, punching type network design, mesh replacement for 3 to 5 minutes to complete, two people is ok.The whole machine, screen mesh with long service life, less energy consumption, low maintenance cost.S49 - A rotary vibration screen of three dimensional vibration of the vibration source of the strong and stable, the equipment can be installed to any desired position and easy to move.
不锈钢旋振筛技术参数简表
Parameters

不锈钢旋振筛一般结构图
Structures
不锈钢旋振筛设备振动力的调整
通过改变的上下2块偏心块的夹角和质量,即可带动设备产生不同大小的振动力,从而改变水平或垂直方向的振动幅度,进而改变筛分的流量和效率。下面表述几个角度调整的一般特征。

Vibrating Force Adjustment
By changing the vibration motor fluctuation two eccentric blocks Angle and quality, vibration motor can drive the device to produce different sizes of vibration, and transform the vibration amplitude of the horizontal and vertical direction, and change the flow rate and the efficiency of screening.The following describe general features of several Angle adjustment.
0度
适用于对原料进
行大量的粗筛分
35度
适用于大多数原
料的筛分
60度
适用于精细原料
的精筛分
90度
特殊用途
旋振筛更换方法
Ways of chaging the mesh